Los Angeles Airport Flight Departures (LAX)
Not all flights may be showing. If not available use search above to find your flight by airline, airport or flight number.
Destination
Airline
Flight no.
Scheduled
Est./Actual
Status
Guadalajara (GDL)
Volaris
Y4917
01:21
Scheduled
Shanghai (PVG)
China Southern Airlines
CZ448
01:25
Scheduled
Honolulu (HNL)
Aloha Air Cargo
KH7001
02:00
Scheduled
Beijing (PEK)
Air China
CA1058
02:15
Scheduled
Beijing (PEK)
Air China
CA3156
02:15
Scheduled
Bogota (BOG)
LATAM Airlines
L71823
02:20
Scheduled
Shanghai (PVG)
China Cargo Airlines
CK224
02:40
Scheduled
Guangzhou (CAN)
China Southern Airlines
CZ472
03:20
Scheduled
Shanghai (PVG)
China Cargo Airlines
CK222
03:35
Scheduled
Chicago (RFD)
Air Transport International
8C3597
04:29
Scheduled
Chicago (ORD)
Cathay Pacific
CX2081 expand_more(1)
04:45
Scheduled
Chicago (ORD)
Cathay Pacific
CX2082
04:45
Scheduled
Seattle (SEA)
Air Transport International
8C1917
04:50
Scheduled
Leipzig (LEJ)
Polar Air Cargo
PO97
04:55
Scheduled
Austin (AUS)
Southwest Airlines
WN276
05:05
Scheduled
Denver (DEN)
United Airlines
UA1339 expand_more(5)
05:08
Scheduled
Denver (DEN)
Air Canada
AC3884
05:08
Scheduled
Denver (DEN)
Air China
CA7256
05:08
Scheduled
Denver (DEN)
Air New Zealand
NZ9472
05:08
Scheduled
Denver (DEN)
Avianca
AV2004
05:08
Scheduled
Denver (DEN)
Virgin Australia
VA8315
05:08
Scheduled
Phoenix (PHX)
iAero Airways
WQ1914
05:15
Scheduled
Denver (DEN)
Southwest Airlines
WN2846
05:20
Scheduled
No flight departures were found at Los Angeles Airport.
Flight Departures at Los Angeles Airport
Los Angeles International Airport departures have similar guidelines with other airports. You have to strictly adhere to these types of guidelines because this guarantees a safe and convenient flight for all of the passengers. If you have any questions in advance, then you may go ahead and inquire about it prior to your departure. This initiative will save you from a lot of troubles during your time of departure. You may also wish to check the airport's official website for a list of the items that are allowed inside the airport. Otherwise, you may decide to arrive at the airport ahead of time, so you can easily adjust with any of the rules that you may have overlooked along the way.
The periods of 6:30 am and 9:00 for domestic flights and the periods of 11:00 am to 2:00 pm and 8:00 pm to 11:00 pm for international and domestic flights are considered the peak periods of the airport. Expect a downpour of passengers who will arrive and leave the airport. Since this is the case, LAX departures passengers are encouraged to arrive at the airport two hours before the scheduled flight, so you can check-in your luggage without any delay. It will also be wise to tune AiRadio 530 AM for the most recent traffic information towards your way to the airport. You don't want to get stuck in traffic and have your entire flight scheduled to have problems just because you lost foresight of the possible traffic problem you may encounter along the way. If you are not familiar with the landscape of the airport, then you may also take a look in advance at its map for instructional guides on how to arrive at the parking, the passenger services, and ground transportation.
LAX departures guidelines for those who will board the plane are also strictly implemented. As a rule, a minimum of two-hour waiting time before your scheduled flight should be followed by all passengers. Include another hour, if you have many bags to check-in. You may decide to bring your car to the airport or not, because there may be limited parking area allotted for those who will request parking accommodations from the airport. Moreover, you will be requested to pay parking fees depending on the length of time you will request your vehicle to stay in their premise. Thus, it's best to go ahead and travel using public transportation or consider car-for-hire services, so you won't need to worry about the parking accommodation of the vehicle. These cars will conveniently drop you off in the appropriate loading zone, commonly found in front of the airport terminal, where you can easily walk toward the central terminal area.
After ensuring that you know the way towards the airport, it is now time for you to prepare your luggage. This will guarantee that you are ready for the Los Angeles airport departures, so unless you will be leaving for a year, it is not recommended that you place your entire clothes inside your luggage. Pack lightly and choose clothes that can easily be paired with the other. You can request laundry services from the hotel accommodation you have reserved in your location destination, so do not worry going out of style. Make sure you place your name, contact information and address on the luggage and carry bags. This is an extra caution in case you lose your luggage along the way. Those who are frequent travelers may also decide to remove the old claim checks that may have remained inside their luggage because it will only create confusion.
Consider Carry-on bags in your Los Angeles departures. This will free you from having to fall in line in the luggage area. However, there are certain limits to the carry-on bags that you can bring. The maximum size of these bags is 45 linear inches in terms of height, width, and depth. Those who wish to learn more about the carry-on luggage restrictions may inquire with their travel again or the LAX departures itself. Make sure that your basic needs are inside these carry-on bags like your pack prescription drugs, personal hygiene items, passports, necessary documents. You may also wish to include your jewelry, cell phones, pager, laptop computers, and other valuable items in this carry on bag. You may also wrap these small loose items in zip lock bag, so you can readily use it when the need arises. Avoid bringing wrapped gifts because there is a great chance that these will be unwrapped for the security group to check the item inside.
Once you have arrived at Los Angeles departures, the management recommends that you directly go to airline ticket counter to check-in. You will be required to show your e-ticket, necessary identification cards like passport, driver's license, and any government issued I.D. plus any additional document that will confirm your e-ticket. Some passengers find a delay in their schedule because they failed to use their exact name on the ticket. To avoid this kind of technical problems, bring documentations that will support the name listed on the ticket is one and the same with the identification card that has been presented. Non-US citizens may suffer from stricter measures which will request the presentation of a VISA, a I-94, or alien resident cards if any.
The moment you have been cleared with all of these documents, the Los Angeles departures requests that these carry-on bags be watched by the owner at all times. The airport will not be deemed responsible if the carry-on bag gets lost or become a suspicious bag item which will therefore be confiscated by the security personnel. Show your boarding pass and pass through the security screening before boarding the plane. Remove all metal objects you may have in your pocket like coins, pens, keys, and pencils because this will be detected by the equipment. These are all standard operating procedures which should be followed and respected by anyone who will use LAX.
Was your flight delayed or cancelled?
You may be eligible to receive up to 600 EUR compensation per person in your party..
Claim Now!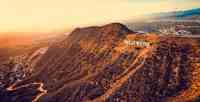 Los Angeles tourist attractions and places you cannot miss whilst in or around Los Angeles...