Los Angeles Airport Flight Arrivals (LAX)
Not all flights may be showing. If not available use search above to find your flight by airline, airport or flight number.
Origin
Airline
Flight no.
Scheduled
Est./Actual
Status
Panama City (PTY)
LATAM Airlines
L71822
12:01
Scheduled
Shanghai (PVG)
China Cargo Airlines
CK223
12:25
23:08
Landed
New York (JFK)
American Airlines
AA185 expand_more(6)
12:28
23:59
Landed
New York (JFK)
Air Tahiti Nui
TN1199
12:28
23:59
Landed
New York (JFK)
British Airways
BA4689
12:28
23:59
Landed
New York (JFK)
Finnair
AY4174
12:28
23:59
Landed
New York (JFK)
Iberia
IB4123
12:28
23:59
Landed
New York (JFK)
Qantas
QF3108
12:28
23:59
Landed
New York (JFK)
Royal Air Maroc
AT5007
12:28
23:59
Landed
San Francisco (SFO)
United Airlines
UA1929 expand_more(3)
12:29
Scheduled
San Francisco (SFO)
Air New Zealand
NZ9254
12:29
Scheduled
San Francisco (SFO)
Lufthansa
LH7496
12:29
Scheduled
San Francisco (SFO)
Virgin Australia
VA8051
12:29
Scheduled
Salt Lake City (SLC)
Delta Air Lines
DL2167 expand_more(1)
12:30
23:56
Landed
Salt Lake City (SLC)
Virgin Atlantic
VS1880
12:30
23:56
Landed
Washington (IAD)
United Airlines
UA1738 expand_more(3)
12:44
Scheduled
Washington (IAD)
Air New Zealand
NZ9593
12:44
Scheduled
Washington (IAD)
Lufthansa
LH7526
12:44
Scheduled
Washington (IAD)
Virgin Australia
VA8373
12:44
Scheduled
Denver (DEN)
Air Canada Jetz
AC7017
12:48
Scheduled
New York (JFK)
JetBlue Airways
B62123 expand_more(3)
01:00
Scheduled
New York (JFK)
Hawaiian Airlines
HA2303
01:00
Scheduled
New York (JFK)
Icelandair
FI7879
01:00
Scheduled
New York (JFK)
Royal Air Maroc
AT9534
01:00
Scheduled
New York (JFK)
Delta Air Lines
DL308 expand_more(5)
01:37
Scheduled
New York (JFK)
Air Europa
UX3363
01:37
Scheduled
New York (JFK)
ITA Airways
AZ3174
01:37
Scheduled
New York (JFK)
KLM
KL5312
01:37
Scheduled
New York (JFK)
Korean Air
KE3200
01:37
Scheduled
New York (JFK)
Virgin Atlantic
VS4763
01:37
Scheduled
Shenzhen (SZX)
China Cargo Airlines
CK229
01:45
Scheduled
Anchorage (ANC)
Cathay Pacific
CX2082
02:30
Scheduled
Shenyang (SHE)
Air China
CA1069
02:35
Scheduled
Hong Kong (HKG)
Polar Air Cargo
PO790
02:49
Scheduled
Seoul (ICN)
Polar Air Cargo
PO96
02:55
Scheduled
Tokyo (NRT)
Nippon Cargo Airlines
KZ5108
02:56
Scheduled
Shanghai (PVG)
China Cargo Airlines
CK223
03:10
Scheduled
No flight arrivals were found at Los Angeles Airport.
Flight Arrivals at Los Angeles Airport
Los Angeles Airport arrivals rarely experience delays. The longest delay passengers may experience is 15 minutes, but this seldom happens because the airport administration sees to it that all the runways are strictly following the schedule. Any unwanted mishaps and technical difficulties are easily resolved, so as not to disrupt the entire airport procedure.
Some of the main causes of LAX arrivals delay include weather, air traffic, go-around, and mechanical problems. Typically, when pilot sees that that it is not yet safe to land on the airport, then he will make a turn around which results to a sudden increase in altitude. Passengers should not worry when this happens because the pilot just wants to make sure that the landing will be safe and perfect. Unfortunately, this will result to a 30 minutes delay, the time needed for the aircraft to return and land on the runway once again. The airport administration has no control over this decision of the pilot, but it will try its best not to cause delay on other on-going arrivals flight schedule.
Weather is another uncontrollable element. Expect delays in Los Angeles arrivals because of adverse weather conditions. These delays may not directly come from LAX but from the origin airport and the in-flight. Wish that your flight would not experience unwanted thunderstorm, snow squall or other snow incidents, which will require de-icing the aircraft. When this happens, then the Los Angeles flight arrival times will certainly be disrupted. The aircraft will find it difficult to depart on time from the origin airport because flight clearances may be temporarily halted by the government. Due to this matter, later scheduled flights will also experience similar delays as spacing intervals between take-offs remains to be fixed and compressed appropriately. So, if you hear news of any unwanted weather disruption in the origin airport, immediately see the official website of the LAX airport to check if there are any changes in the flight schedule. They will immediately inform their passengers through this messaging system if they have to reschedule their travel towards the airport or wait for another day before the airport can fix the schedules accordingly, but this kind of inconvenience rarely happens.
Although air traffic and mechanical problems are one of the least of the worries of passengers expecting LAX arrivals, your flight is not immune to these inconveniences. Again, this is not the full responsibility of the airport administration or management, but the full responsibility of the airline company. However, the airport is still in need to troubleshoot possible delays that this may bring to their schedule. It would be fortunate if the FAA would be informed in advance by the pilot that such a mechanical problem was experienced by the aircraft, so they can inform LAX, the travelers, and service providers; but this is not often the case.
LAX arrivals and airline arrivals are two different things. The schedule, which Los Angeles Airport flashes on its board, comes from the FAA, the institution that monitors all the flights in the US, while the one posted by the airline operations center that are based on their own calculation. This makes the arrival time posted by Los Angeles Airport to be more credible, since this is comes from a reputable organization tasked to handle the flights in the US. So which one should you follow? Of course, you should trust the arrival time schedule that has been posted on the gate because this is the most updated schedule received by the airport.
Those who are expecting Los Angeles arrivals, either from friends, business partners, colleagues or relatives are advised to go to the airport an hour before their scheduled flight arrival. This will give you enough time to prepare for your welcoming embrace, so they will feel your warmth and hospitality. Security may be a bit tough, but consider it to your advantage.
Meet passengers Los Angeles airport arrivals at the baggage claim located on the Lower/Arrival Level. You have the option to request that they stay at the curbside pick-up area since there is no parking allowed at the curbside. In any case, you may also park your vehicle at the left hand side of the airline terminals. It is structured at 1, 2, 2A, 3, 4, 5, 6, and 7; but be prepared to pay $3 for the first hour of your parking and additional $2 for every extended 30 minutes. However, the maximum rate of these parking is $30 for a daily rate. Other parking areas can be found at the Economy Parking Area, which offers free shuttle buses that will happily drop the passengers to the curbside located on the Upper/Departure Level. In any case, you may also park at Parking Lot B, which is located at 111th St. and La Cienaga Blvd. It is free for the first 2 hours but a $1 rate has to be paid for each additional 2 hours. The same goes with Parking Lot C located at 96th St. and Sepulveda Blvd. However, why bother yourself locating these parking areas? Why not free yourself from this kind of trouble and save on these types of expenses by hiring a car or getting a taxi so you can conveniently go to your destination after fetching your guest or family member.
You will find the Los Angeles arrivals very convenient. It has enough restaurants, which can feed your desire for delicious meals, after a long flight. It has enough public transportation, which will make your tour around the city very comfortable. It has enough security, which will make your travel secure. It has a wonderful architecture that is designed for the admiration of anyone who enters its premises. It has everything that an airport should contain and more. Plan your next trip and be happy to know that your aircraft will be serviced by on site because it guarantees the best air flight experience.
Was your flight delayed or cancelled?
You may be eligible to receive up to 600 EUR compensation per person in your party..
Claim Now!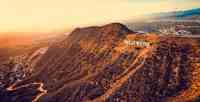 Los Angeles tourist attractions and places you cannot miss whilst in or around Los Angeles...